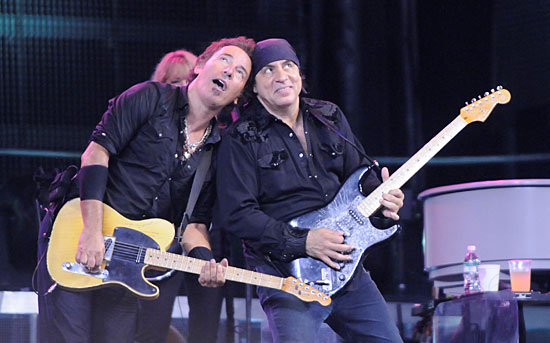 Did I have fun? Absolutely. Was it everything I had hoped for? Not so sure. I'm not one to complain and I guess I've been a little spoiled in the past. I had awesome seats for the Bruce Springsteen stop at Gillette Stadium this past Saturday, and I sang my heart out along the way, but sadly I can only give the show an 8.
An 8 because the band was in fine form. Nils' guitar solos, Max's pounding drums and the Big Man's sax on Jungleland made it way worth the price of admission. And let's not forget about the Boss himself. Running back and forth, hanging from his mic stand and even doing the knee slide during Mary's Place.
An 8 because he played some great songs 10th Ave Freezeout, SPIRIT in the Night (one of my all time favs), and Rosalita. Jungleland, I'm Going Down, and Who'll Stop The Rain (dedicated to Bill Belichick). But where was Backstreets or Because The Night, and most of all after the rain delay and thunder storms, WHERE WAS THUNDER ROAD? The punch to the gut was not that it wasn't played, because he can't play every song every night, BUT IT WAS ON THE SETLIST and he opted not to play it for something else.
One of the best parts of the show was the sign collecting. This tour Bruce has started taking requests from the crowd based on their created signs. This show signs included Little Latin Lupe Lu (Played with the band for the first time since '77) Does This Bus Stop...? and I'm Going Down. Awesome part of the show that keeps even the most obsessed setlist watchers, guessing at what Bruce will play next.
Overall it was a great show and I'm sure I'll continue to listen to it on my iPod for a while, and maybe it's because I follow and download EVERY show of the tour that I know what he has been playing and know what I could have seen/heard. But that's what makes me a fan and what makes it so much fun. Now I have more reason to go back and see him and hear more songs that didn't come out at Gillette.
I understand the thunderstorms put a damper on the show and I understand this was the last show before a two week break. You played your hearts out and I had a great time, but next time you know I'll be in the pit with my Thunder Road sign. I guess I'm being selfish. The show was definitely a 10.